History of Ministry to People With AIDS:
with son Jason
Our work with people with AIDS and their families grew out of our conviction that the church is in the world as a sign and foretaste of the Kingdom of God; therefore the meaning of the gospel must be illustrated through lives of service which accompany its verbal proclamation.
Upon our return to work in Chiang Mai, Thailand in early 1995, our primary goal was to participate in a church plating project among the Buddhist Thai. The extent of HIV infection and the needs associated with AIDS in Thailand had become much more apparent while we had been in the US for furlough and were continually before us in the news and in conversations after our return. We were also aware that such needs had presented unique opportunities in the case of Christian work among leprosy patients. After much prayer, we became convinced that God was asking us to become involved in a ministry to people with AIDS and their families, as a witness, not only to HIV positive community, but also to the wider society, including the church.
We have partnered with some Thai Christians in this outreach: Prawit Chaosan and his wife Sunni, and another young lady names Yai. The name of our group translates from the Thai language as "Friends of the Distressed." We rent a small house where Prawit and his family live, and which serves as a center for out activities, in the district of Sansai, about 3 miles from the eastern city limits of Chiang Mai. The main features of our ministry are:
1. GROUP MEETINGS
Initially we began in June 1996 by sponsoring group meetings for the purpose of support of those living with HIV, with a special goal of sponsoring projects to help family incomes. Our first project was making Christmas wreaths to sell to the foreign community in Chiang Mai that year, which provided the equivalent of daily minimum wage for those who participated.
In early 1997, after discussions with a company that was willing to contract sewing work out to homes, we proposed a sewing project to the group whereby we would undertake to provide machines and a place to sew for those who had the skills but not the equipment. The project would not be able to meet deadlines established by the company due to ill health.
After a retreat in March, 1997 we began emphasizing spiritual matters to a greater extent spiritual matters, and began meeting on a every second week schedule. The goal of these meetings has been to introduce basic information regarding the nature of God and his Son, Jesus Christ, using Bible readings within an atmosphere of meditation and prayer. As of June, 1999 these meetings have become weekly by request of those attending. A separate session for children is also provided. Attendance is averaging 20 or more each week. There has been increased attendance recently by non-HIV+ family members.
2. HOME VISITATION
Home visitation with those open to receiving visits has been a part of our ministry since the beginning. Through visitation we seek to build relationships and provide emotional support to those living with HIV/AIDS. Visits also provide opportunities for us to help educate family members regarding living with people with AIDS. After a relationship has been established we ask permission to pray with them which generally granted and on occasion read Scripture with them. We also carry some medicines with us to supplement what is provided by the government hospital.
3. TRANSPORTATION TO HOSPITAL
Since many people in our target group do not have adequate transportation we are always available to transport patients to the hospital for medical care and find that someone has a need nearly every week.
4. SUPPORT AT FUNERALS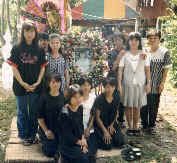 At least one of our team attends funerals of those to whom we have ministered, presenting a small cash gift to help with expenses according to local custom.
In certain cases of extreme need, we have provided the wooden coffin. Funerals are also important social occasions in Thailand and provide another opportunity to be among the people as witnesses to God's love and concern.
5. SEWING PROJECT
Loss of jobs once those with HIV become symptomatic is generally the rule. The needs of families to find ways to generate income has been one of the main problems connected with the AIDS epidemic that we have been concerned to address. While shot-term projects, such as the wreath project mentioned earlier, provide some help, we have wanted to find something for the long-term.
We have now begun the sewing project mentioned above after the recent donation of funds for three industrial-grade sewing machines. Initially their own machines are bringing their work to our center of each day. We will also be looking for additional opportunities to contract with companies who send work out take care of pick-up and delivery.
6. COORDINATION WITH OTHER CHRISTIAN AIDS MINISTRIES
We participate in a consortium of Christian AIDS ministries which meets on an every second month basis to share ideas and resources. The group also sponsors a yearly retreat for the participating organizations' workers.
7. LONG RANGE GOAL
The long-range goal of our ministry is to see a new church community arise in Sansai, based on home cell groups meeting for prayer, mutual edification and worship. It is also our goal to continue to participate in church leadership development through teaching and providing internships for Bible college students in the AIDS ministry in order to cast a vision for ministries of mercy and compassion within the church in Thailand.